FOH | Tour Manager | Production Manager
TYLER HAS BEEN TOURING SINCE 2006. HE IS A DEDICATED AND PASSIONATE Front Of House ENGINEER, AND HAS WORN MANY HATS THROUGH THE YEARS, BOTH ON AND OFF THE ROAD.
Tyler started out his touring career with jazz - fusion legends Steve Smith (Journey), Tom Coster (Santana), Baron Browne (Tom Jones/Billy Cobham), and Vinny Valentino (Bill Evans, Play Along Jazz). During these tours he has acted as FOH engineer, monitor engineer, drum technician, driver, and even sold some merchandise. Touring in those days (before smartphones!) really was a different task then it is today. Preparation included making tour books (printouts of mapquest for every leg of the trip), and programming Garmin GPS units. It was in these duties that Tyler saw the necessity of detail oriented thinking.
Tyler feels happiest behind the board providing inspiring sounding mixes to concert goers.
Front of House (FOH) mixing in the following concert venues (partial list)
outside the USA
Teatro Opera Orbis Seguros - Buenos Aires, Argentina
Glatt und Verkehrt Festival - Krems, Austria
Blue Note - Rio de Janeiro, Brazil
Festival International de Jazz de Montréal - Montréal, Canada
Ottawa Jazz Festival - Ottawa, Canada
Palais Montcalm - Quebec City, Canada
Koerner Hall - Toronto, Canada
Municipal Theatre Enrique Buenaventura - Cali, Colombia
Liburnia Jazz Festival - Opatija, Croatia
Ronnie Scotts - London, England
Shoreditch Town Hall - London, England
Theater Marcel Elie - Coutances, France
Jazz à Juan Festival - Juan Les Pins, France
Marciac Jazz Festival - Marciac, France
Au Gres Du Jazz Festival - La Petit-Pierre, France
Nimes Jazz Festival - Nimes, France
La Seine Musicale - Paris, France
The Olympic Theatre - Paris, France
Festival Jazz en Comminges - Saint-Gaudens, France
Jazz à Vienne - Vienne, France
Dresden Jazztage - Dresden, Germany
Pallis Theatre - Athens, Greece
Parco Scolacium Roccelletta - Borgia, Italy
Blue Note Milano - Milan, Italy
Umbria Jazz Festival - Perugia, Italy
De Boerderij - Zoetermeer, Netherlands
Romanian Athenaeum - Bucharest, Romania
Festival Okarina - Bled, Slovenia
Jazz En La Costa - Almunecar, Spain
Barts - Barcelona, Spain
Teatro Campos Eliseos - Bilbao, Spain
Teatro Nuevo Apolo - Madrid, Spain
Heineken Jazz Festival - San Sebastian, Spain
Stockholm Jazz Festival - Stockholm, Sweden
Ystad Jazz Festival - Ystad, Sweden
Lugano Jazz Festival - Lugano, Switzerland
Festival Da Jazz - St. Moritz, Switzerland
Kirche Neumünster - Zürich, Switzerland
October Palace - Kiev, Ukraine
USA
Woodland Auditorium - Hot Springs Village, AR
Hullabaloo Festival - Flagstaff, AZ
Mesa Arts Center - Mesa, AZ
Musical Instrument Museum - Phoenix, AZ
Valley Bar - Phoenix, AZ
NAMM Convention, Korg Stage ­- Anaheim, CA
Freight & Salvage - Berkeley, CA
CSU Fresno - Fresno, CA
Bach Dancing & Dynamite Society ­- Half Moon Bay, CA
The Center for the Arts -­ Grass Valley, CA
Catalina's Jazz Club - Los Angeles, CA
Echoplex - Los Angeles, CA
The Music Box -­ Los Angeles, CA
Yoshi's Jazz Club -­ Oakland, CA
Drum Channel/DW - Oxnard, CA
Oxnard Performing Arts Center - Oxnard, CA
High Sierra Music Festival -­ Quincy, CA
Fox Performing Arts Center - Riverside, CA
Crest Theatre - Sacramento, CA
JB's Lounge - Sacramento, CA
Anthology -­ San Diego, CA
Belly Up - San Diego, CA
Music Box - San Diego, CA
UC San Diego - San Diego, CA
Palace of Fine Arts Theatre, San Francisco, CA
SF Jazz Center - San Francisco, CA
Yoshi's SF -­ San Francisco, CA
Kuumbwa -­ Santa Cruz, CA
Catalyst - Santa Cruz, CA
The Broad Stage - Santa Monica, CA
Moss Auditorium - Santa Monica, CA
Bing Concert Hall - Stamford, CA
JAS Café - Aspen, CO
Hotel Boulderado -­ Boulder, CO
Lazy Dog - Boulder, CO
Historic Brown - Breckenridge, CO
Appaloosa Grill -­ Denver, CO
The Border Café ­- Denver, CO
Cervantes' Masterpiece Ballroom - Denver, CO
The Church -­ Denver, CO
Dazzle Restaurant & Lounge -­ Denver, CO
Denver University - Denver, CO
Jazz@Jacks -­ Denver, CO*
The Marquis Theatre - Denver, CO
Moe's - Denver, CO
The Oriental Theatre - Denver, CO
Quixotes True Blue - Denver, CO
Raven's Tavern -­ Conifer, CO
Rise Nightclub -­ Denver, CO
The Soiled Dove Underground -­ Denver, CO*
CU Denver, King Center - Denver, CO*
St. Julien Hotel - Boulder, CO
Sherbino Theatre - Ridgway, CO
O'Bannen's At The Moon - Telluride, CO
The Bushnell Performing Arts Center - Hartford, CT
Blues Alley ­- Washington, DC
Freer Gallery of Art: The Smithsonian ­- Washington, DC
Gateway Park - Sunny Isles, FL
Opperman Music Hall - Tallahassee, FL
The Earl - Atlanta, GA
Sweetland Amphitheatre - LaGrange, GA
Blue Note - Honolulu, HI
Martyr's -­ Chicago, IL
Park West - Chicago, IL
Subterranean - Chicago, IL
SPACE - Evanston, IL
Durtie Nellies -­ Palentine, IL
The Jazz Kitchen -­ Indianapolis, IN
The Jazz Factory -­ Louisville, KY
Zanzibar - Louisville, KY
Joy Theatre - New Orleans, LA
Harper's Ferry -­ Boston, MA
Sculler's Jazz Club -­ Boston, MA
The Wilbur - Boston, MA
Club Passim - Cambridge, MA
Cape Cod Jazz Festival ­- Cape Cod, MA
Beachcomber - Wellfleet, MA
Gordon Center - Baltimore, MD
Jazz Café - Detroit, MI
Music Hall for Performing Arts - Detroit, MI
Grand Rapids Civic Theatre - Grand Rapids, MI
The Ottawa Tavern ­- Grand Rapids, MI
Ironwood Theater - Ironwood, MI
Knowlton Auditorium - Austin, MN
Mitchell Auditorium - Duluth, MN
Dakota Jazz Club -­ Minneapolis, MN
Pioneer Place on Fifth -­ St. Cloud, MN
Mojo's -­ Columbia, MO
Warren Miller Performing Arts Center - Big Sky, MT
University of North Carolina, Chapel Hill, NC
Pinhook - Durham, NC
Belle Mehus Auditorium - Bismark, ND
Jewel Music Venue - Manchester, NH
Rochester Opera House - Rochester, NH
Farm & Arts Festival - Hammontown, NJ
NJPAC - Newark, NJ
Pioneer Center for the Performing Arts - Reno, NV
Massry Center for the Arts - Albany, NY
Brooklyn Bowl - Brooklyn, NY
The Tralf Music Hall ­- Buffalo, NY
Hamilton College -­ Hamilton, NY
Ace of Clubs -­ NYC, NY
The Iridium ­- NYC, NY
Rockwood Music Hall - NYC, NY
Caffe Lena - Saratoga Springs, NY
The Van Dyck -­ Schenectady, NY
The Lost Horizon - Syracuse, NY
Bucyrus Auditorium - Bucyrus, OH
Aronoff Center - Cincinnati, OH
Top Cats - Cincinnati, OH
House of Blues - Cleveland, OH
Nighttown -­ Cleveland, OH
Lincoln Theatre - Columbus, OH
Gilly's ­- Dayton, OH
Secrest Auditorium - Zanesville, OH
Blue Moon on Paseo -­ Oklahoma City, OK
The Shrine - Tulsa, OK
The Mobius -­ Ashland, OR
The Otherside - Kearney, NE
The Lincoln Theater - Raleigh, NC
Muiskfest at Steelstacks - Bethlehem, PA
The Ephrata Theatre -­ Ephrata, PA
Zanzibar Blue -­ Philadelphia, PA
Gerald Veasley's Jazz Base -­ Redding, PA
Peach Festival - Scranton, PA
The Lackawanna Station ­- Scranton, PA
State Street Grill -­ Scranton, PA
McVinney Hall - Providence, RI
AECOM PAC - Aiken, SC
SD State Performing Arts Center - Brookings, SD
Historic Homestake Opera House - Lead, SD
The Orpheum Theatre -­ Sioux Falls, SD
Station Inn - Nashville, TN
Empire Room - Austin, TX
Sidewinder - Austin, TX
House Of Blues - Dallas, TX
Shipping and Receiving - Ft. Worth, TX
House Of Blues - Houston, TX
Midtown Art Center - Houston, TX
Paper Tiger - San Antonio, TX
Green Mountain Bluegrass & Roots Festival - Manchester, VT
The Southern Cafe and Music Hall - Charlottesville, VA
Jazz Alley ­- Seattle, WA
The Triple Door - Seattle, WA
The Alagoma Room -­ Oshkosh, WI
New Moon Café - Oshkosh, WI
* denotes house sound engineer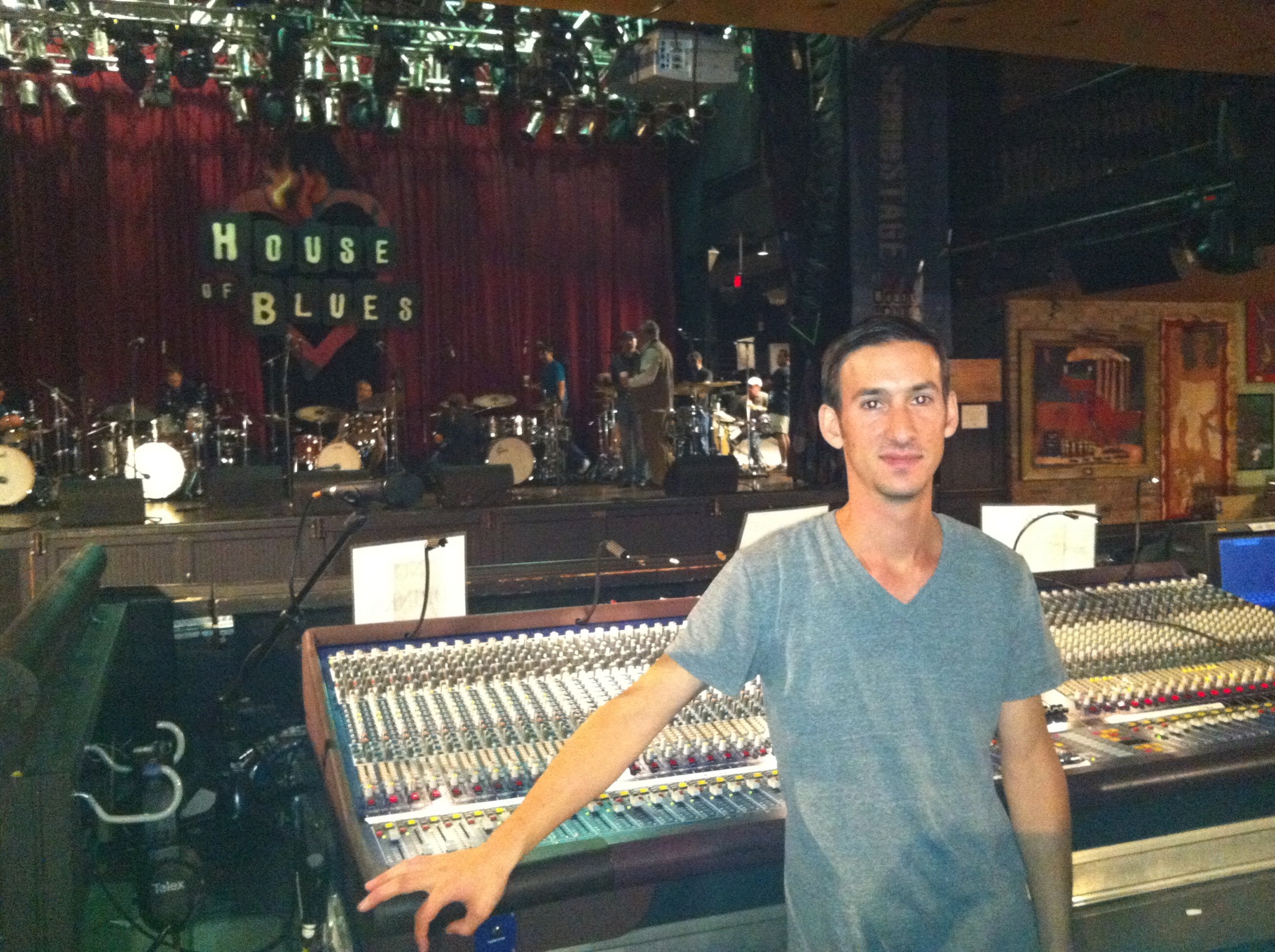 Front of House (FOH) or monitors for these artists and acts (partial list)
10 String Symphony
Al Di Meola
Alpha Rev
Amora Group
Andy Mckee
Aspen Hourglass
Ben Ottewell
Big Dog Run
Bijoux Barbosa
Carl Palmer
Carlos Nunez
Chieli Minucci
Doug Balmain
Drum Fantasy Camp
Edmar Castañeda
Eric Gunnsion
Ethan Bortnick
Euge Groove
Ewan Dobson
George Brooks
Griffin House
Guitar Center Drum-Off Finals
Hiromi Trio Project
Hiromi feat. Edmar Casteñeda
Hot Lunch
International Blues Blow-Off
Jamie Kent
JL Studios
Johnathon Butler
Little Hurricane
Mike Marlier
Mohammed Alidu
Mr. Mojo Risin
Nelson Rangell
Nina Storey
Norman Brown
Omar Sosa
Paper Diamond
Peter More
Prasanna
Ragabop
Richie Allen
Rickey Lee Jones
Ronnie Laws & Tom Browne
Rudy Cardenas
Sam Outlaw
Seckou Keita
Simon Phillips & Protocol
Soul School
Steve Smith
Steve Smith & Vital Information
Sunsquabi
Sympathy F
Terrell Martin
Terry Bozzio
The Floozies
The Long Run, Eagles Tribute
Transparent Water
Tunisia
Ty Burhoe
Wake Up Call
Winery Dogs
World Party